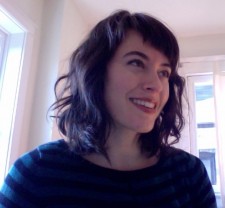 Screenwriter and Gamer Heather Jackson Added to Quinn & the Quips Team
Charlotte, NC, July 27, 2017 (Newswire.com) - Quinn & the Quips, a new animated virtual reality-themed series and game for 8-12-year-olds by Charlotte, NC-based Blue Socks Media, has added Canadian screenwriter and game writer Heather Jackson to the development team.
As a screenwriter for popular youth series such as Camp Lakebottom, Captain Flamingo, and Iggy Arbuckle, Jackson fine-tuned her relationship with comedy and character development. As a gamer, she also believes strong storytelling is critical to building a successful game, which recently landed her the Lead Writer position on ZenFri's upcoming VR game The Last Taxi.
"Quinn & the Quips is the perfect opportunity for me to merge a great TV and game story to create one incredible contemporary package," Jackson commented, "The characters are genuine; the quest game is original and challenging; and the Quips bring the magic, silliness, and conflict."
Quinn and the Quips focus on four friends, lead by gaming wiz Quinn, and their relationships on the school's eSports team, where they learn to compete against good, bad and unpredictable, shape-shifting Quips. In each episode, a different quest challenge – complete with obstacles, tools, and rules -- is delivered from the national gaming headquarters. A scoreboard keeps track of the team's penalties and credits, while the drama and comedy unfold in both the real and virtual worlds.
Created by Alex Anderson, an editor, and writer at Blue Socks Media, Quinn & the Quips also plans to address the many new challenges facing the digital generation including how to balance the dependency on electronic devices and how to navigate relationships in a social media society.
"The initial reception by industry partners to Quinn was exciting and we can't wait to share the latest developments." Alex Anderson added. "While it's a more collaborative than a linear process, we hope to finalize scripts and partners by the end of this year, green lighting production in 2018."
For more information, go to: BlueSocksMedia.com or QuinnQuips.com. HeatherJacksonwrites.com
About Blue Socks Media
Blue Socks Media creates, produces and manages children's television properties. The company has produced over 200 episodes and 200 original songs for its wholly owned, Emmy Award-winning series, Raggs, which is distributed in over 100 countries. The Raggs characters also host events and perform live shows as part of the "Play at Palladium with Raggs" program at five Grand Palladium luxury resorts in Mexico, Dominican Republic, Jamaica, and Brazil. New productions include Quinn and the Quips and CZ Kitty Mascot. 
Source: Blue Socks Media
Share: