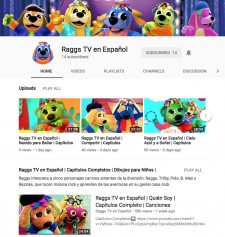 Musical Preschool Series 'Raggs' Now Available Online on Spanish and Australian English Channels
CHARLOTTE, N.C., April 12, 2018 (Newswire.com) - "Raggs", the award-winning preschool series starring five colorful pups in a rock band, has expanded its YouTube presence by adding a new Spanish language channel, Raggs TV en Espanol, and re-releasing episodes of the original Australian version of the show on a new Raggs TV AU channel.
RaggsTV, the brand's original channel which launched in 2016, has amassed over 55 million views with animated music videos of classic U.S. nursery rhymes, "Raggs" original sing-along concerts, and clips of the U.S. English version of the show, which are e/i certified and originally aired on PBS stations across the United States.
It's not good enough to just have great content, your fans have to find it easily.

Trish Saemann, Founder of GoBeyondSEO
"A third 'Raggs' channel is a great way to increase the brand's digital footprint, making the series more visible and available to fans on a worldwide scale," Trish Saemann, founder of GoBeyondSEO, a global digital agency, explained. "It's not good enough to just have great content, your fans have to find it easily," she added.
The new "Raggs" TV en Espanol channel launched on April 2nd with five half-hour compilations consisting of the brand's most popular original concert videos, such as, "Little Bit of Love," "What's the Dealio," and "It's A Happening," and short episodes from the series, all dubbed into Latin Spanish.
"Everyone loves the Spanish voices. The dubbing and vocals were executed beautifully," Toni Steedman Zelickson, president of Blue Socks Media, owner of the "Raggs" brand, explained. "We were fortunate to work with an amazing team at Candiani Studios in Mexico City, which had the enormous task of dubbing 120 "Raggs" episodes and 150 songs over 15 months!" The Spanish version of "Raggs" aired in the US on NBC's Telemundo and currently resides on multiple SVOD platforms and broadcast stations in Latin America.
While "Raggs" is a U.S. concept created by Steedman, the series was originally produced in Australia for Network Seven from 2006-2010 with Australian voices and Australian children. For public TV in the U.S., the series was dubbed in U.S. English and the Dumpster character interviewed nearly 300 American children, 100 of whom won a slot from a 2010 national "Rockin' Kids Search."
All "Raggs" YouTube channels are managed by WildBrain UK, a digital content network owned by DHX Media. WildBrain will upload new content to all three channels three times per week.
Media Contact:
Alex Anderson, alex@bluesocksmedia.com, 843-430-1668
About "Raggs"
"Raggs" is an Emmy Award-winning, musical preschool series about five colorful pups who learn life lessons though an innovative mix of live action stories, music videos, concerts, cartoons and interviews with real kids. With over 200 episodes, 300 original songs and animated new media music videos, "Raggs" is available worldwide in English, Spanish and Portuguese and has begun dubbing in 15 additional languages for distribution in 100 countries in 2018. The "Raggs" brand includes CDs, DVDs, toys, books and live shows, including a partnership called "Play at Palladium with 'Raggs'" with the Palladium Hotel Group at resorts in Mexico, the Caribbean and Brazil. The original characters were created by Toni Steedman, a Charlotte, NC, advertising executive, for her then six‐year‐old daughter Alison. "Raggs" and all rights are owned by Blue Socks Media LLC, Charlotte, NC.
About GoBeyond
GoBeyond is a Charlotte, NC-based digital communications agency that serves a broad spectrum of clients in the U.S. and overseas. Services include social media management, digital media and buying, app and website development, branding and video production.
WildBrain
WildBrain, a divison of DHX Media, Canada, was founded in 2016 and has become the largest YouTube specialist in Europe representing brands such as Caillou, Teletubbies, Strawberry Shortcake, Yo Gabba Gabba, and "Raggs". For more information, Contact@wildbrain.com, 183 Eversholt Street, London NW1 1BU, +44 (0)20 7631 3931.
Source: Blue Socks Media
Share: