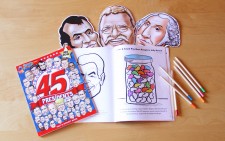 "The 45 Presidents" Activity Book Available Online at Amazon.com, BarnesandNoble.com, and Lulu.com
Charlotte, NC, January 4, 2017 (Newswire.com) - Students, teachers and parents will have fun preparing for the Inauguration with the recently released "The 45 Presidents," the first historical activity book to include President-elect Donald J. Trump and facts such as which president kept an alligator in the White House or which president is also featured in the Wrestling Hall of Fame?
Written by former advertising executive turned TV producer, Toni Steedman Zelickson, and illustrated by nationally renowned caricature artist, Jeff Mangum, "The 45 Presidents" is immediately available at online booksellers Amazon.com, BarnesandNoble.com, and Lulu.com for $8.99. Orders are shipped within 3-5 days of receipt.
The high quality, large format, 84-page book features a caricature of each president, presidential trivia, First Lady matching and other iconic images such as Air Force One, the White House, and Mount Rushmore. "The 45 Presidents" is also part of a multi-media trio that also includes a new original song and music video by the Raggs Band, the Emmy-Award winning characters from the Raggs TV show.
"The brilliance of this book lies in the ability to present facts in an easy to absorb format with great illustration," Allan Grafman, CEO All Media Ventures, said, "but, the extra bonus is the reinforcement of the facts with a catchy song and music video!"
 "The 45 Presidents" song, a 20-verse pop tune written by Becky Kent Story and Alex Anderson, is available exclusively on iTunes for $.99. "The 45 Presidents" music video stars 30 children, parents, a Labrador Retriever, Raggs the character, and a large yellow school bus, and is available to enjoy for free on YouTube or Raggs.com.​
Links: "The 45 Presidents" on Amazon, "The 45 Presidents" of Barnes and Noble, "The 45 Presidents" on Lulu
About Raggs​ 
Raggs is an Emmy Award-winning, musical preschool series about five colorful pups who learn life lessons though an innovative mix of live action stories, music videos, concerts, cartoons and interviews with real kids. With over 200 episodes, 300 original songs and animated new media music videos, Raggs is available worldwide in English, Spanish and Portuguese and has begun dubbing in 15 additional languages for distribution in 100 countries in 2017. The Raggs brand includes CDs, DVDs, toys, books and live shows, including a partnership called "Play at Palladium with Raggs" with the Palladium Hotel Group at resorts in Mexico, the Caribbean and Brazil. The original characters were created by Toni Steedman, a Charlotte, NC, advertising executive, for her then six‐year‐old daughter Alison. Raggs and all rights are owned by Blue Socks Media LLC, Charlotte, NC.  For more info, go to www.raggs.com.
###
Source: Blue Socks Media
Share: