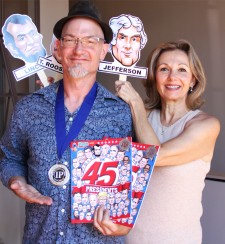 The 45 Presidents Activity Book Aids Parents, Teachers, and Students
Charlotte, NC, June 30, 2017 (Newswire.com) - In the early morning hours after the presidential election, Toni Steedman Zelickson, president of Blue Socks Media, illustrator Jeff Mangum and their team were busy uploading a top secret multi-media project called "The 45 Presidents" to a new namesake website, iTunes, YouTube and LuLu.com, a Raleigh-based digital publisher – everything to be ready as history was being made.
The successful project recently earned two major publishing accolades, both in the multi-media category: an Independent Publisher's Association Silver IPPY medal, which was presented at a special ceremony honoring authors at the Copacabana in New York City on May 30th, and a 2017 Resource Award from Homeschool.com, the leading resource for nearly two million homeschoolers.
The Blue Socks' team had been working for months to create two versions, one for each candidate, of a new, 84-page activity book, original song and music video – all designed to be the first and most up-to-date historical resource for kids and parents. In addition, the trifecta book-song-video combo is a proven method for making complex subjects easier to learn.
"While most of us are all familiar with the names of the presidents, the research was complicated, especially when you are trying to present an objective and simplified view for an activity book," Steedman said of the process. "We've had 45 very different presidents, each with their own unique style, capabilities and challenges. And, once elected, they are an important part of American history!"
For Mangum, a well-known muralist, illustrator and caricature artist based in the Charlotte, NC area, the task was to create interesting, but accurate portraits of each president, first ladies, monuments and other historical activities.
"The 45 Presidents was pure pleasure for me," Magnum commented, "not only did I get to study and interpret the features of each president, but I also had fun illustrating trivia pages such as John Quincy Adams' alligator that he kept in a bathtub and Coolidge's hippo Billy!"
While Steedman and Mangum were working on the book, Jamie Hoover, formerly of the Spongetones, was writing the companion song, which would feature lead singer Tim Cashion, and Joanne Hock of GreyHawk Films was coordinating production on the new music video. Alex Anderson was the project coordinator and Dabney Estile created the graphic design. Blue Socks Media released the project under the Raggs TV brand, an Emmy Award-winning musical preschool series owned by Blue Socks Media.
The 45 Presidents is a large format activity book available at online booksellers Amazon.com, BarnesandNoble.com, and Lulu.com for $8.99. Orders are shipped within 3-5 days of receipt. "The 45 Presidents" song is available for purchase on iTunes for .99 and the accompanying music video is free-to-view at RaggsTV on YouTube.  For more information, go to The45Presidents.com. 
About Blue Socks Media & Raggs
Blue Socks Media is Charlotte, NC-based independent production and brand management company specializing in children's programming, live shows and licensing. Blue Socks Media is the owner of several TV properties including Raggs, an Emmy Award-winning, musical preschool series with over 200 episodes and 200 songs in worldwide distribution. In addition, Blue Socks is currently in preproduction of two new series, Quinn & the Quips, a girl's technology and virtual reality series for ages 6-11 and CZ – Kitty Mascot, an animated, preschool comedy about a hipster school mascot.
For more info, go to www.raggs.com.  Alternative photography and images are available.
Source: Blue Socks Media
Share: